The ASUS ZenBook Pro Duo (UX581) with two 4K screens and decent performance promises to be a serious and, above all, portable alternative to the work machine under the desk. Where in our opinion the concept for cutters, designers and live streamers still has teething troubles, compromises have to be made and what we generally think of the ZenBook Pro Duo can be found here in the test on GIGA.

ASUS ZenBook Pro Duo (UX581): Our verdict
Using the ASUS ZenBook Pro Duo was an alternation between astonishment, rejection and getting used to.
Overall, the ASUS ZenBook Pro Duo is a niche product for a very steep target group. For these, the laptop may be the fulfillment of all wishes – nevertheless, it cannot be recommended to a broad mass. If you subtract the special features, the gamer gets the same performance for less money. Those who want a work device can also get a normal and portable notebook with comparable performance for the same price and then equip two workstations with large second monitors and a docking station, for example.
advantages
Two displays always with you
Good touch & pen support
Build quality
performance
disadvantage
Keyboard position
Missing connections (SD, LAN)
Battery power
Portability rather low
Price-performance ratio questionable
Review: ASUS ZenBook Pro Duo (UX581)


Workmanship, feel and design: 3.5 / 5
Display: 4.5 / 5
Performance: 4/5
Video and audio: 3.5 / 5
Connectivity and storage: 3.5 / 5
Battery and everyday life: 2/5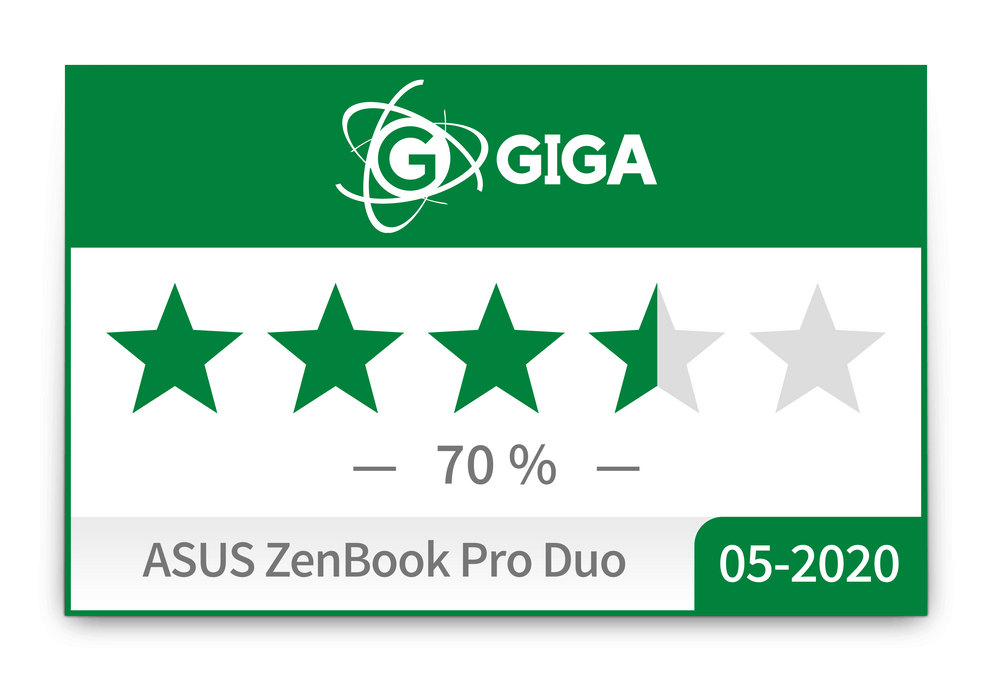 Impression & outward appearance
The first thought when unpacking the ASUS ZenBook Pro Duo is: "This is a high-quality piece of hardware that looks good and looks good." The second is: "Uff!" When you lift the laptop out of the box. The full metal housing, two screens, high-quality technology and a matching cooling system weigh 2.5 kg – in addition to this comes the 800 gram 250 watt brick power supply. Given the thickness of the device (24 mm), you almost instinctively look for the CD drive and the CI slot. As someone who has been using an ultrabook for a long time, you immediately feel 10 years in the past – but somewhere the performance that is equivalent to a desktop computer must also be accommodated.
Even if ASUS continues to advertise the Pro Duo in its advertising material with its Zen design language, the device with the two screens and the keyboard that is pulled forward deviates significantly from the typically very simple ZenBook series. Unfortunately, what comes across very nicely on the product photos photographed at the perfect angle looks less impressive in reality. The HDR-capable 4K OLED main display is convincing. And the matt ScreenPad Plus is the right choice due to its functionality and to prevent reflections. As a result, the difference between color and contrast is much more noticeable than the product images suggest.
Operation & connections
For many users, the keyboard position will not just be a matter of getting used to. Without the included palm rest, we were unable to type on the ZenBook Pro Duo for long periods of time without hand fatigue during the entire test phase. The edition should therefore be an indispensable companion to the already less portable notebook for some users. The pad itself is very light and equipped with continuous non-slip feet, but still likes to wander over the desk during normal use. Why we did not work with magnets here remains a mystery to us.
The small touchpad takes up the position of the numpad and also acts as a replacement for it. Anyone who absolutely needs the numpad for billing or the like will not be satisfied with the correct input via the touchpad. For most people, position and size should not be a problem after a short period of familiarization – especially since both monitors are also touch-capable. Since the main monitor is very stable and both displays are immune to fingerprints, the ZenBook can be operated completely without the touchpad.
When it comes to connections, the ZenBook Pro Duo also orientates itself with its Ultrabook siblings and spills where it could block. The work machine offers just two standard USB Type-A connections, a USB Type-C connection (Thunderbolt), an HDMI 2.0 output and a 3.5 mm combo jack connection. From a purely technical point of view, it would have been technically possible to provide this "stand laptop" with a LAN connection and SD card reader – or at least 1-2 more USB connections in order to cope with the adapter chaos on the desk.
Performance & hardware
The ZenBook Pro Duo is primarily a multi-tasking desktop replacement for video editing, 3D modeling, graphic design and all sorts of work areas where a single screen is not enough. And this is exactly where the laptop has its big advantage over other hardware. With the built-in RTX 2060, even more complex 3D applications and 4K rendering are possible without any problems.
And of course current PC games are not a problem either – as long as the power supply is plugged in and you are ready to change the graphics settings or the resolution from time to time. Older, but still graphically impressive titles like "The Witcher 3: Wild Hunt" or "The Vanishing of Ethan Carter" ran smoothly in our test with the highest graphics settings in the native 4K resolution. However, you have to endure loud fan noises and hardware that is close to the boiling point of water (100 ° C). If you want to give the graphics card some relaxation, the resolution in complex 3D games should be reduced to 1440p or even 1080p. However, you should not go below the typical Full HD resolution in fullscreen applications, since the scaling of content with low resolutions (e.g. 1600 × 900 or 1280 × 720) looks extremely grainy on the 4K UHD display.
The harman / kardon-certified loudspeakers emit a differentiated sound even at low volume, which should be sufficient for the user sitting directly in front of it to enjoy the movie or the game. Anyone expecting a large resonance room due to the dimensions of the laptop will be disappointed. As with most laptop speakers, those of the ZenBook Pro Duo sound increasingly tinny with increasing volume. It is therefore not enough to "fill the whole room with music". In addition, we had the problem with our test device that the left loudspeaker, regardless of the sound source (uncompressed audio file, stream, video game), audibly overdrive or scratch from a volume setting of 76.
The hardware was to be expected that the ZenBook Pro Duo would not be a battery miracle. The 71 Wh battery is empty with both displays at maximum brightness and the streaming of video content in 4K after almost 2 hours. If you want to work a little longer, deactivate the screen pad and switch to 50 percent screen brightness. So you can use light applications such as Office for around 5 hours – but the device cannot bridge a whole working day without the power adapter even in the most energy-saving settings.
Displays

15.6-inch 4K UHD HDR touchscreen (3840 × 2160 pixels)
14.1-inch 4K screen pad (3840 × 1100 pixels)

processor
Intel Core i7-9750H (6 cores, 12 threads, maximum boost clock 4.5 GHz)
Graphics cards

Intel UHD Graphics 630
Nvidia GeForce RTX 2060 with 6 GB video memory

Storage
1 TB PCIe 3.0 x4 SSD
random access memory
16 GB DDR4 RAM @ 2.666 MHz
connections

1 × USB Type C Gen 2 (Thunderbolt)
2 × USB 3.1 Type A Gen 2
HDMI 2.0 output
Audio combo jack (headphones + microphone)

battery pack
71 Wh
operating system
Windows 10 Home 64-bit
Weight
2.5 kilograms
Price (RRP)

2,999 euros
Quiz: What do you know about Apple?