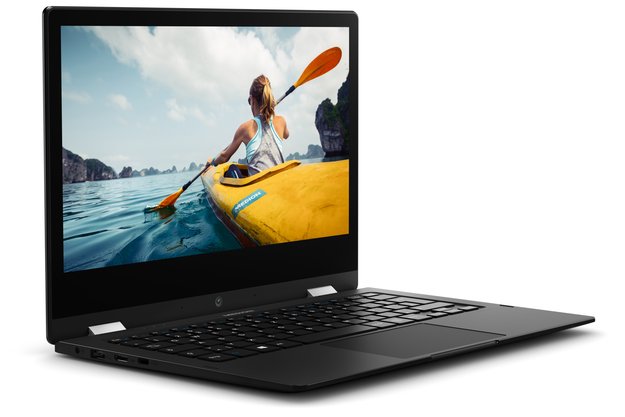 You can work anywhere with a laptop. However, the device should not be too large and it should not cost too much. Aldi Nord will soon be offering an 11.6-inch laptop for 250 euros. GIGA tells you who is worth buying.
Medion Akoya E2292 at Aldi for 249 euros
In times of Corona, many people work from home. Not everyone has the right laptop or PC. If you want to buy a new device that can also be used on the go, you should Medion Akoya E2292 by Aldi Nord look at. This will be sold from May 28, 2020 for 249 euros. With an 11.6-inch display, it is perfect for on the go, but can also be connected to a monitor and keyboard at home to serve as a desktop PC.
In addition to the compact design and the affordable price, the Medion Akoya E2292 has another special feature. It is a so-called convertible, which is equipped with a 360-degree hinge. So the screen can be flipped over and the laptop turned into a tablet. With the touchscreen you can operate Windows 10 with your finger. The S version of Windows 10 is preinstalled, but you can just turn it off and use the full operating system.
Who is it worth buying the Medion Akoya E2292 for?
For everyone who is looking for a small laptop for mobile use. Technically, we are in the entry-level class with the Intel Celeron N4100, which is supported by 4 GB of RAM. The 128 GB flash memory is relatively large, but does not work as fast as an SSD. However, you can retrofit an m.2 SSD with up to 512 GB and easily expand the memory. Such an SSD can be found cheaply on Amazon. There are many connections, a chic design with aluminum housing and at a really attractive price. So if you don't have too high demands, you will be satisfied with the Medion Akoya E2292.